Stairlift FAQ
What is a stairlift?
A stairlift is a motorized chair that travels in a secure track along your stairs, either in your home or outside your home. Stairlifts can be either straight or curved.
How does a stairlift work?
A stairlift is a motorized chair that travels in a secure track along your stairs, either in your home or outside your home. The track is secured to your stairway with small bolts. The entire system does require access to a power outlet, but will run on battery if the power goes out temporarily.
What happens if my stairwell has a turn in it?
Curved stairlifts are not an issue. We will measure your stairwell and make the stairlift fit your location.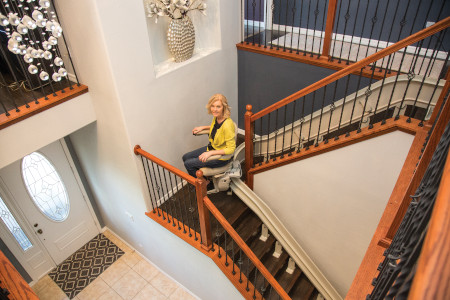 What is the weight capacity of a stairlift?
Your standard stairlift carries 300 lbs. We have options for higher weight capacity stairlifts if required. This will be determined during your free in-home assessment.
What brand of stairlift should I invest in?
There are companies that do a very good marketing job but it may not be right for you or they may not have the service and follow-up. During our free-in home assessment we will discuss our brand options and make the best choice for you.
How long does it take to install my new stairlift?
For a straight stairlift it is usually half a day and for a curved stairlift it will take one full day.
Why should I buy a stairlift over a residential elevator?
A stairlift has several advantage over a residential elevator:
A stairlift costs much less to install and maintain
Elevators require larger structural changes to the home than a stairlift
A stairlifts require less space to install than an elevator
A stairlift can be installed in hours, where as an elevator takes several days and may require other contractor(s) involvement
For new homes, or homes going through a renovation, an elevator is a good option as it can be built into the process and will add value to your home.
Do I require power to operate my stairlift?
The stairlift does require access to an electrical outlet near the stairway. No special wiring or voltage is required.
Do I have a choice of colour for my stairlift?
Yes, with some of our brands you do have a limited choice of colour. We will present these options to you at your in-home assessment.
Do I require contractural work for a stairlift to be installed?
In rare cases where access to a home electrical outlet is not available an electrician would need to be contacted to add an outlet.
What is the warranty of my stairlift?
Can I purchase an extended maintenance plan for my stairlift?
Assist Health Supplies offers it own in house warranty and maintenance plan. We will discuss the options you have during or in-home visit depending on which brand of stairlift is chosen.
Is the stairlift mounted to the wall of the stairwell or the stairs themselves?
The stairlift is mounted to the stairs themselves with small lag bolts.
Does it matter what flooring material is on my stairs?
No it does not, your new stairlift can be mounted to any surfac
Installing a Stairlift Gives You Independence
Would you like to be able to safely access all levels of your home or property. A stairlift is an economic way of extending your independence in your own home.
Our dedicated team member will come to your home and review the options we can provide specifically for your location. We will then provide you a quote and if approved, book a time to have your new stair lift(s) installed.
"*" indicates required fields